Vermont Tech Jam is an annual career and tech expo, organized by Seven Days, that showcases some of Vermont's most innovative companies. This year's event takes place at Hula, a coworking campus on the Burlington waterfront.
Since 2008, each Tech Jam event has attracted hundreds of job seekers, career changers, tech professionals, college students, enthusiasts and anyone eager to learn from and connect with Vermont companies.
Ready to make connections?
Meet local recruiters, discover new opportunities, network with other tech professionals and hear the keynote presentation about lab-grown meat, with Dr. Rachael Floreani and Irfan Tahir, two University of Vermont-based researchers in the rapidly evolving field of cellular agriculture.
2023 KEYNOTE PRESENTATION
Will Vermonters go for lab-grown meat?
Vermont loves its farms and its farmers. Will it also embrace meat that's been grown in a lab? The USDA recently approved the production and sale of "cell-cultivated chicken." What kinds of challenges and opportunities does no-slaughter meat present? Dr. Rachael Floreani and Irfan Tahir, two Vermont-based pioneers in the rapidly evolving field of cellular agriculture, explore those questions in a keynote conversation, moderated by Seven Days' deputy publisher Cathy Resmer.
Dr. Rachael Floreani, mechanical engineering professor at the University of Vermont, has led interdisciplinary teams at biotech startups and in academia. She has been invited to speak at international conferences, has been interviewed by multiple news outlets, and has served on numerous academic panels. Her translational research spans the biomedical, materials processing, and cellular agriculture fields, and has culminated in six granted patents, 40+ scientific articles, and an FDA-approved implant available on the market.
Irfan Tahir, Ph.D. candidate and New Harvest Fellow at UVM's Engineered Biomaterials Research Lab, is the president and cofounder of UVM's Cellular Agriculture club. He's an experienced biomaterials scientist and tissue engineer with academic and industry experience in leading laboratory research and new product development for cultivated meat technologies.
Looking for work? Speak with recruiters from dozens of local tech companies looking to expand their teams. Update that résumé and start researching the companies you want to connect with. It's time to get back in the ring.
Step away from the computer and chat with humans IRL. It's rare to find so many like-minded individuals under one roof, so come connect with them and learn what they've been up to. You could come away with an awesome new idea or some help for that next big project.
Plumber, doctor, artist and chef are all great career choices, but what about inventor, scientist and engineer? Bring your students to Tech Jam to show them future career paths they may not have known existed — especially in Vermont.
Looking for a job? Internship? Get that résumé up to date because dozens of local companies working in tech will be at the Jam and are ready to meet you. So go iron that button-down shirt and practice — you've got this!
Our growing company, Biocogniv, leverages artificial intelligence to tackle sepsis, the leading cause of in-hospital death in the United States, as well as other acute conditions before they become irreversible. Our offices are in Burlington's Hula coworking campus and when we found out the 2021 Vermont Tech Jam was happening here, we knew we had to participate.
Exhibiting at the Tech Jam paid off. We were fortunate to meet Kylin Willis, a biomedical engineering student from the University of Vermont, who stopped by our office to learn about Biocogniv. Not long after, she started as an intern and is now our latest full-time hire. We are thrilled to have her on the team and glad we were able to keep a recent graduate turned young professional in Vermont.
Our team is looking forward to the next Tech Jam at Hula in October.
Jabez Boyd
COO, Biocogniv Inc
I've attended as a job seeker and as an exhibitor on behalf of my employer, VEIC.
At my first Tech Jam, I was considering a career change into data analytics. The event gave me a chance to chat with recruiters and professionals in the field. Everyone I met was more than happy to offer advice and encouraged me to apply for jobs once I felt ready. I still remember having some great conversations with people from two companies that I hadn't even been aware of previously: Greensea and MicroStrain (now Parker LORD). A couple years after my first visit to a Tech Jam — and after taking much of the free advice I got there — I found a position with VEIC that has been more satisfying than I could have expected.
In the years since, I've attended on behalf of VEIC. The Tech Jam is a great way to connect with people from all different fields — it's surprising how often people in very different industries are facing analogous problems in data analytics. This event is a rare opportunity to meet people from a wide range of local companies all under the same roof. I look forward to it every year.
Mike Fink
VEIC energy data analyst
Tech Jam 2022: Let's work together.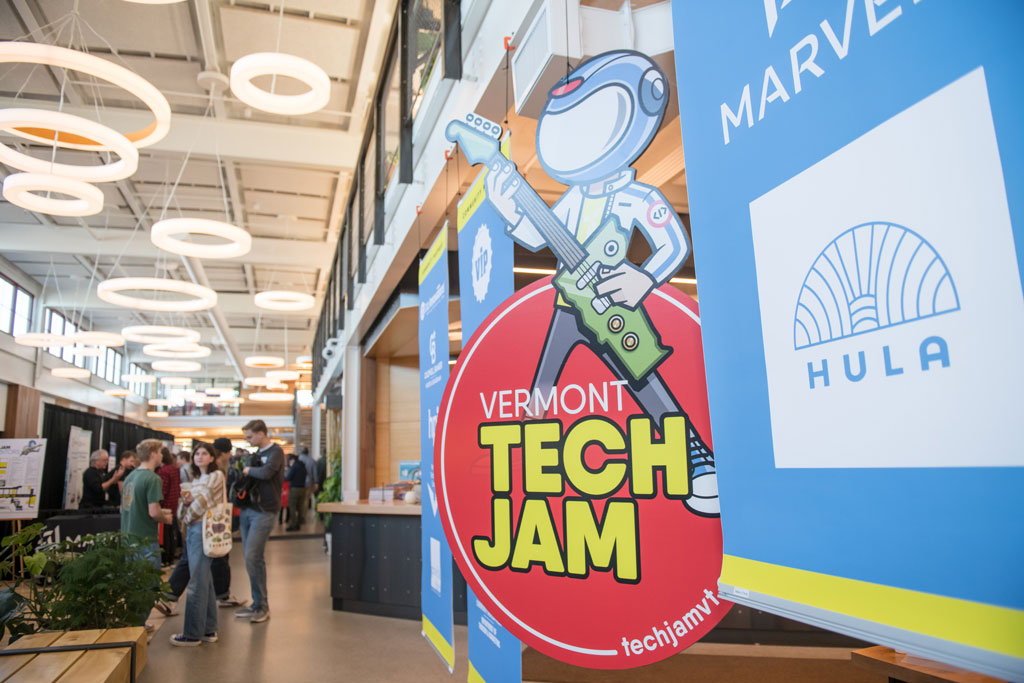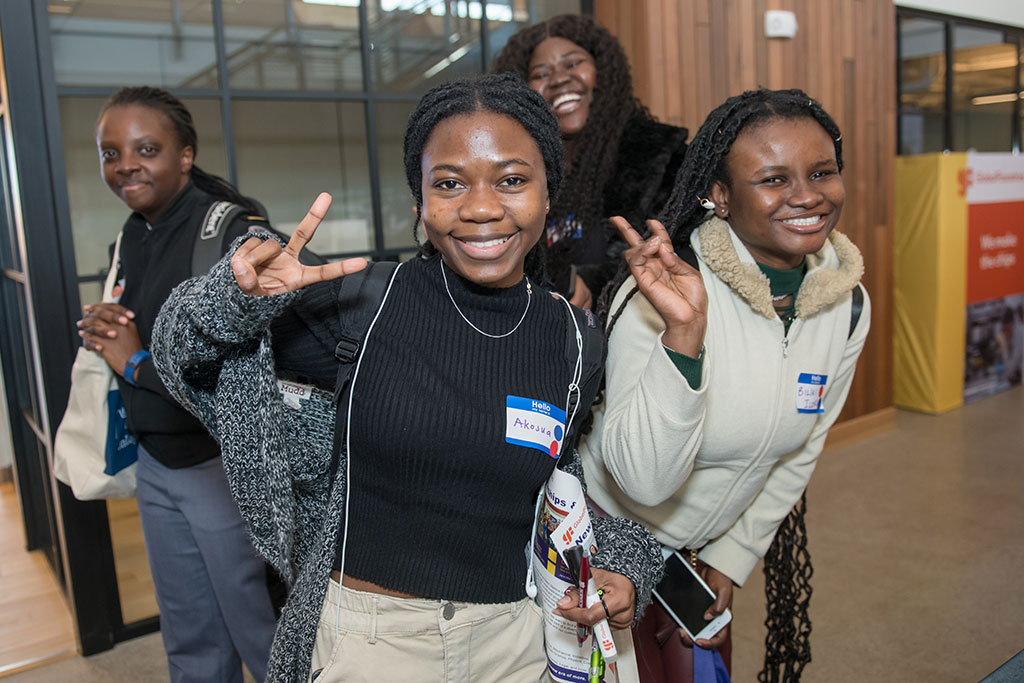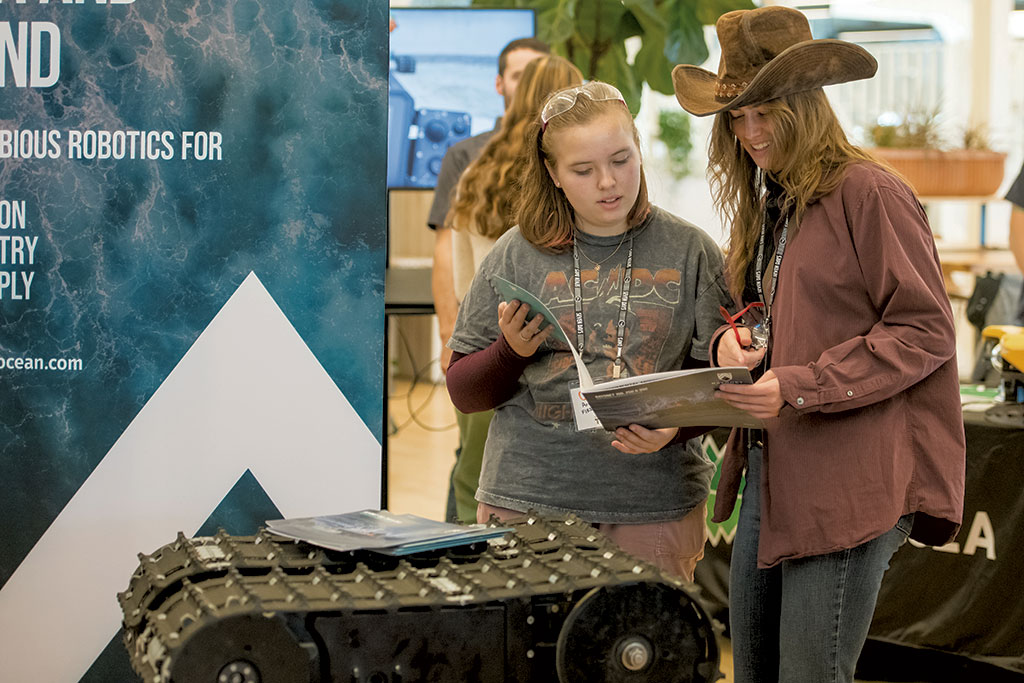 The Vermont Tech Jam, Seven Days' career and tech expo, returned to Hula Lakeside in Burlington on Saturday, October 22. More than 40 employers came to the tech campus with open jobs to fill.
They met with nearly 1,000 Jammers who wandered through the former factory to talk tech: job seekers, college students, entrepreneurs, FIRST robotics coaches, tech professionals, candidates and elected officials including Burlington Mayor Miro Weinberger. Crowds congregated outdoors, too, in front of Beta Technologies' MobileDome flight simulator.
The Tech Jam concluded with a keynote presentation featuring inventor, philanthropist and Boston Scientific cofounder John Abele and CoreMap CEO Sarah Kalil. 
Thank you to our hosts at Hula, to all of our community partners and to the exhibitors for a day of fascinating conversations and new local connections.
Tech Jam 2021: Reboot. Reconnect. Reimagine.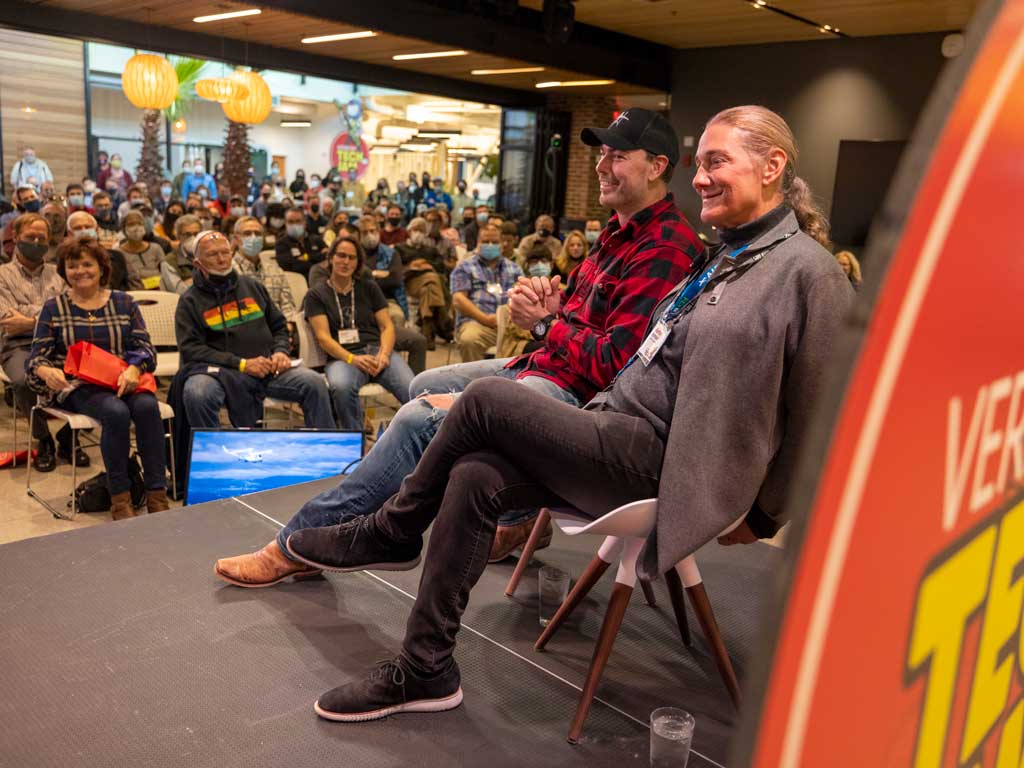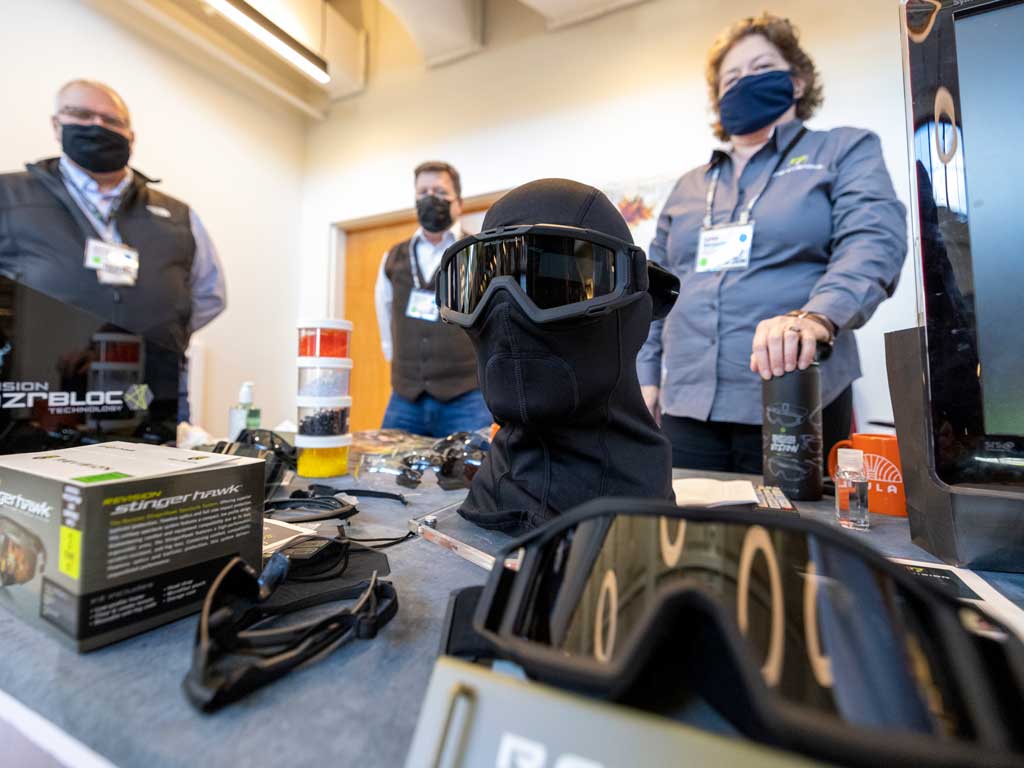 The Vermont Tech Jam career and tech expo, returned to Burlington on Saturday, October 23, 2021. The weather was perfect, and so was the timing. Dozens of employers came to Hula with open jobs to fill.
Roughly 1,000 mask-wearing Jammers wandered through the former oven factory to talk tech including job seekers, college students, entrepreneurs, FIRST robotics coaches and teachers — including Karen McCalla, the recently announced Vermont Teacher of the Year. Exhibitor space sold out; so did the afternoon session.
The Tech Jam concluded with a keynote presentation featuring Beta Technologies founder and CEO Kyle Clark and Beta's first customer, Martine Rothblatt, CEO of United Therapeutics. They spoke to a standing-room-only crowd about their unique partnership, and where they see Beta going over the next few years.